PENLER Makes First Multifamily Acquisition, Adds Partners, Plans Developments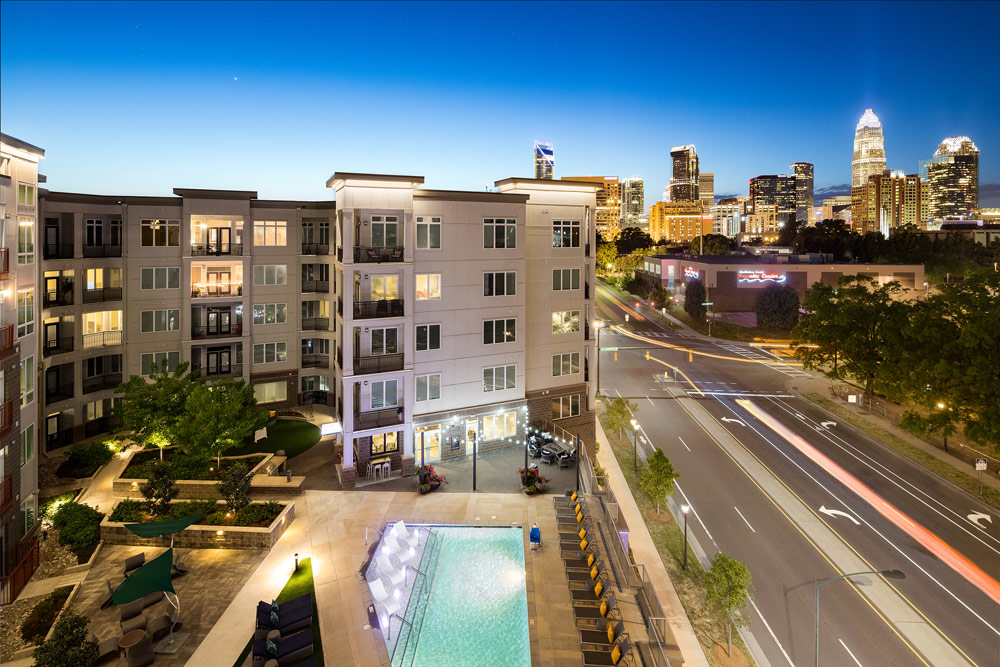 Atlanta/Charlotte, N.C. (October 4, 2019) – PENLER, a new multifamily real estate investment platform, just acquired its first asset in downtown Charlotte for approximately $55 million. PENLER also recently added two new partners to fill the key roles of Chief Financial Officer and Director of Asset Management. Plus, the firm expects to start its first development project next month.
The Atlanta-based firm acquired Presley Uptown, a 230-unit luxury property in Charlotte, N.C. on Monday, Sept. 30. JLL Income Property Trust was PENLER's institutional investment partner in the transaction. Uptown is one of Charlotte's most popular and fastest-growing neighborhoods. Located just off I-277, the pet-friendly community is near several shopping, dining and entertainment options as well as greenspace and major sports arenas. A Lynx Blue Line rail station and a new Whole Foods are within walking distance of the property.
Presley Uptown is National Green Building Standard Green Certified and features Class A unit finishes and amenities including a saltwater pool with aqua bar, a sky lounge rooftop deck, a large fitness center and more. PENLER plans to refresh some of the common areas of the property in the coming year. Future updates include the addition of smart-home technology throughout the community.
"This investment is a prime example of our strategy to acquire well located, in-fill projects in high-growth Southeastern markets at an attractive cost basis," said Managing Partner Graham Carpenter, who leads PENLER's acquisition division. "The company is less than a year old, and we are hitting our production targets and adding key management team members, as planned."
New Partners
PENLER also added two partners with key roles in their Atlanta office.
Mark Hinshaw is the firm's Chief Financial Officer. He is responsible for the financial management of the company and its partnerships. Mark oversees financial reporting, tax, risk management, HR, IT and other initiatives. He is also instrumental in the company's debt and equity capital efforts. Mark started his career in the audit practice of PricewaterhouseCoopers. He then focused on commercial real estate while working with Catellus Development Corporation, Rockwood Capital, and Jamestown. Mark received his Bachelors and Masters of Science in Accountancy from Wake Forest University. 
Alex Geeslin is the firm's Director of Asset Management. In her role, she is responsible for the asset management platform where she focuses on maximizing asset performance, oversees property management operations, manages equity and debt relationships and leads transaction execution. Alex brings with her over a dozen years of experience in the multifamily sector and was most recently responsible for the operation of a $500 million portfolio of multifamily assets across the Southeast for a regional owner and operator. She graduated summa cum laude from the University of Georgia.
New Developments
Managing Partner Brian Metzler adds that the firm expects to start construction on its first multifamily development in Metro Atlanta in November with two additional development projects slated to break ground in the first half of 2020.
About PENLER
Launched in early 2019, PENLER is a full-service multifamily real estate operating platform focused on major metropolitan areas across the Sun Belt. Led by seasoned professionals with deep knowledge of markets and conditions, as well as an expansive vision for seizing new opportunities, PENLER uses best-in-class investment, development and asset management processes. For more information, visit www.PENLER.com.
###
Media contact: Terri Thornton 404-932-4347 Terri@TerriThornton.com